Curious about Paleo living… but afraid of commitment?
These expert endorsements not only reveal why eating Paleo is ideal for good health, but also why your transition to Paleo can be painless—even enjoyable—to put into practice!
Whether you're grappling with gluten, down in the dumps about dull diets that don't work, or just plain wanting to improve your wellbeing, the following quotes should illustrate why Paleo really could be the saviour food regime you've been looking for.
Pete Evans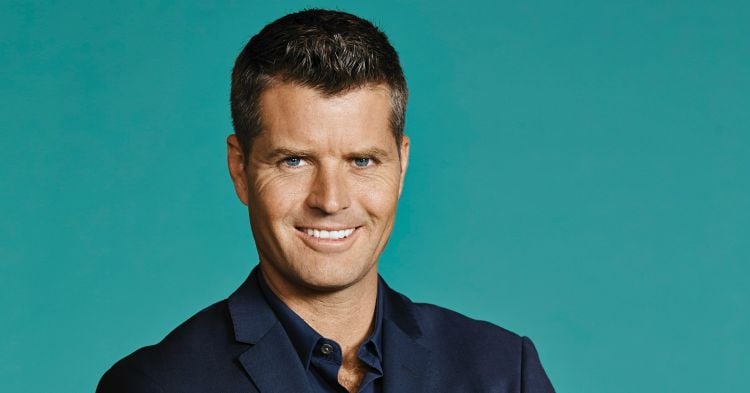 "While we may not be serving up woolly mammoth steaks in 2014, we can certainly learn a lot by looking back in time and combining the instincts of our ancestors, along with the findings of modern science to understand why what we eat can have a transformational impact on our health and wellbeing.

Essentially, it's because our genetics are still programmed for our bodies to run at their best when eating a diet of good-quality proteins and healthy saturated fats. And by eating a diet rich in meat, veggies, nuts and seeds, as opposed to the low-fat, high-carbohydrate diets that have predominated in the Western world over the past 30 years, people all over the world are taking control of their own health."
As most Australians know, Pete Evans has been a household name since My Kitchen Rules started airing in 2010. He's also no stranger to this blog! As a proud advocate of Paleo, he collaborated with Rumbles last year to help make the Pete Evans Chindii Cookie! Evans boasts that at 43 years old, he's in the best physical and mental shape of his life. And he attributes it all to going Paleo.
Neely Quinn
"The Paleolithic diet is time tested like no other diet: 2.5 million years, in fact. In other words, it's been around for all of human (or hominid) life on Earth. This way of eating proves that not all things old are outdated. It's an ancient way of eating, but modern research shows that it works. You might think that people long ago lived short, brutal lives, wherein they didn't live long enough to even develop chronic diseases of today. But there's actually a lot of evidence that many of them lived to ripe old ages—into their 60s, 70s, and beyond, but free of modern maladies like diabetes, obesity, cancer, and heart disease. In fact, it seems that our Paleolithic ancestors and modern hunter-gatherer groups were and are the muscular, energetic, healthy people we want to be."
Nutrition therapist and rock-climber Neely Quinn credits her athleticism to having a truly beneficial diet. Her collaboration with PaleoPlan founder Jason Glaspey brought us the ultra handy Complete Idiot's Guide to Eating Paleo! Like Evans, Quinn is living proof that Paleo eaters are thriving in ways you probably didn't imagine.
Melissa Hartwig
"First and most important, focus on health, not weight loss. Regardless of the foods you choose to eat on your reset, your goal is to improve your physical, psychological, and emotional health. (Get that straight, and body composition will naturally follow.) Besides, trying to lose weight fast is what got you into trouble in the first place, isn't it? So let's do something different here."
Most people trying to change their eating habits have been led to believe caloric deficit is the be-all and end-all. Sadly, this direction often leads to dissatisfaction and self-deprecation. This in turn causes us to self-sabotage our well-intended healthy eating goals.
Whole30 co-creator Melissa Hartwig, however, stresses that the purpose of her nutritional program isn't to take body measurements. Rather, it's to liberate the digestive system from inflammatory foods. That's a principle fully embraced by Rumbles Paleo. Hartwig's bestseller Food Freedom Forever outlines exactly why taking control of your health is more crucial than weight loss.
Danielle Walker
"The stories that show up in the pages of magazines or are featured on the news have headlines like "I lost 100 pounds with Paleo." While that is a huge accomplishment and of course garners media attention, it is not about the weight loss, rather that the person is healing their body and allowing it to function properly again at a weight that is just right for that particular body.

I had the same health transformation, except for my weight went the opposite way. I was extremely malnourished due to an autoimmune condition and Paleo helped heal my body so it could naturally put on the weight it needed to thrive. That is a story you don't hear often, but deserves every bit as much attention. What matters isn't my weight, but that I am healthy. I am not sick anymore. I never thought I would be able to say that!"
Rumbles is committed to nurturing people's gluten-free lifestyles. Success stories like Danielle Walker's is why! The author of best-selling Against All Grain essentially saved her own life by going Paleo, inspiring gluten-sufferers everywhere to do the same.
Michelle Tam
"Too many folks think the Paleo approach to eating is about deprivation, and that all we eat is ground beef with a side of steamed broccoli. "I can't go Paleo – there'll be nothing I can eat," skeptics say. But what they mean is that they can't conceive of Paleo food being anywhere near as scrumptious as their weekly meals at the local greasy spoon, or as satisfying as the crinkly bag of half-eaten fluorescent cheese poofs on the floor of their car. To get people to maintain a Paleo lifestyle, it's important to show how the food that fuels them can be healthy and insanely good."
Michelle Tam, bestselling author of Nom Nom Paleo, wants to set the record straight. The Paleo lifestyle is every bit as satisfying as a non-believer's! Needless to say, Rumbles Paleo snacks concur.
Robb Wolf
"It's easy. Although the Paleo diet is a departure from the way most people eat, you have already eaten thousands of Paleo meals, whether you knew it or not.

Ever had scrambled eggs, fruit, and coffee for breakfast? How about a chicken salad for lunch? Perhaps some grilled fish with a salad and a glass of wine for dinner? That's pretty damn close, and no, we do not need to get wrapped around the axle of whether coffee and wine are "Paleo" or not. In moderate amounts both are healthy, and when taken in the fuller context of our overall eating, they are just fine.

My point here is you have already eaten many "Paleo"-type meals, I'm just suggesting you eat more of these than not. The cooking is simple and the meals are delicious. This makes sticking with the program easy and it quickly becomes a habit, not a "diet"."
Robb Wolf is a scientist, health expert, and the bestselling author of Wired to Eat. He thinks the trick to making the change to Paleo is simple: Don't get distressed over the details.
Loren Cordain
"Eating Paleo does not consign you to a boring, monotonous, limited diet in any way. In fact, the deeper you get into eating this way, the better you will feel—and the more you will want to continue eating Paleo.

However, from the start—when I wrote the first edition of The Paleo Diet—I incorporated the 85:15 Rule into the diet. The basic idea of this rule is that since most people eat about 20 meals per week, you can eat three non-Paleo meals per week—15 percent of your weekly meal total—and still experience noticeable, positive health benefits. I recommend that Paleo Diet novices begin at 85:15 for a few weeks and then steadily move toward 95:5 as they become used to the diet. (Two non-Paleo meals per week is a 90:10 compliance and one non-Paleo meal per week is a 95:5 percent compliance.)

This flexible strategy allows a little bit of cheating without losing the diet's effectiveness. In fact, many Paleo dieters say that once they eliminate a former favorite food, when they do eat it, they experience unpleasant physical effects and wind up losing their cravings for that particular food…"
Dr. Loren Cordain is the leader of the Paleo movement. He's a nutrition specialist and bestselling author of The Real Paleo Diet Cookbook, among others. Like Wolf, Cordain emphasises room for food flexibility within the Paleo lifestyle. For newcomers, the 85:15 rule should be a handy guideline for organising meals. The upshot of this strategy is that progressing to 95:5 feels totally natural and effortless.
Chris Kresser
" I suggest we stop trying to define the "Paleo diet" and start thinking about it instead as a "Paleo template".

What's the difference? A Paleo diet implies a particular approach with clearly defined parameters that all people should follow. There's little room for individual variation or experimentation.

A Paleo template implies a more flexible and individualized approach. A template contains a basic format or set of general guidelines that can then be customized based on the unique needs and experience of each person.

But here's the key difference between a Paleo diet and a Paleo template: following a diet doesn't encourage the participant to think, experiment or consider his or her specific circumstances, while following a template does.

The only way to figure out what an optimal diet is for you is to experiment and observe."
Chris Kresser is a research scientist and global leader of Paleo nutrition. For making the change to Paleo, he emphasises the importance of individual variation. This is opposed to rigid dieting rules that may simply not suit the workings of your body. His bestseller, Your Personal Paleo Code, also encourages leaving room for a healthy amount of indulgence!
Mark Sisson
"When I say humans didn't evolve eating grains, I mean our digestive processes didn't evolve to maximize the effectiveness of grain consumption. Just because you can tolerate grains to a certain degree, as just about all of us can (thanks to those earlier folks hitting the end of the genetic line), doesn't mean your body was designed for them or that they're truly healthy for you or – especially – that you can achieve optimum health through them. We're not talking about what will allow you to hobble along. We're talking about the foods that offer effective and efficient digestion and nutrient absorption in the body. And that's all about evolutionary design."
Mark Sisson, former champion athlete and revered fitness blogger, is a vigorous advocate for grain-free Paleo living. He proposes that grains can be enjoyable, but they're definitely not essential. The Primal Blueprint sheds insight into our Paleolithic ancestors and reveals how our modern-day lifestyles have let us down.
Diane Sanfilippo
"Changing my diet resolved all the ailments that had haunted me for years. It was a matter of healing my gut, which, in turn, healed my entire body, and balancing my blood sugar levels.

After these two main issues were addressed, I simply fine-tuned my diet and lifestyle practices to optimize my health. I had suffered needlessly for many years, but the health I now enjoy with this new lifestyle is extraordinarily liberating. I said good-bye to urgent trips to the bathroom and frequent doctor visits, and I no longer need to carry sugary snacks like granola bars to keep myself from feeling like I might pass out."
Nutritionist Diane Sanfilippo is yet another gluten-free success story. Like Danielle Walker, Sanfilippo was able to recover her health by transforming her food regime. Many regard her bestselling book Practical Paleo as "The Paleo Bible"!
If you're now thinking of experimenting with Paleo eating, then why not sign up to our Rumbles Rewards Club? Get a free Paleo intro bundle (including cookbooks, shopping lists and a Paleo "How To" book) and Members Only discounts for our snacks, including the Pete Evans Chindii Cookie available May 1st. We want to help you make healthy eating as easy and enjoyable as possible. Click the image below to become a Rumbles Rewards Member now. With us on your team, healthy's never been this fun and delicious 🙂
When you've got Rumbles on your team, Paleo can be easy… and that's just the way the cookie crumbles!